The Church of England currently has 16,200 churches in the UK, and 43 cathedrals. This does not include Roman Catholic churches or non-conformist chapels. Finding which church your relative married in can therefore be a problem if you don't have any information.
In the 16th and 17th centuries most couples married in the bride's parish. During this period 30% of all marriages were by licence and 30% were remarriages following the death of the first partner. However, 25% of people who survived beyond the age of 40 did not marry (the average life expectancy in the 18th century was 37.1 years for men).

In the 18th century mobility was common, but mostly over a limited area. Large numbers of people did not marry where they were born and almost half of the population did not die where they were born. Most farm labourers or servants were employed for a year as seasonal workers, and often moved to another parish each spring. Movement was usually contained within a twenty mile radius or less. Bridegrooms were often shown in the records as being a 'Sojourner' - i.e. a traveller who only stayed for a short time. In the 18th century a large number of couples married in the nearest large town, and many flocked to specific churches, often where the vicar would only charge a small fee. Only a minority of couples married in the same parish as the one in which they were baptised.
Some marriages went unrecorded as a result of negligence on the part of the vicar. Many clergy noted the event on scraps of paper and transcribed the information into the record book often days or weeks later. Mistakes were therefore common. The situation improved when Hardwick's Marriage Act 1753 required that the bride and groom 'sign' the register, either with a signature or their mark.
During the 18th century most marriages took place within 15 miles of the home of the couple; by the 1850s the average was 30 miles. Average age at marriage in the late 18th century was 28 years for men and 26 years for women. By 1871 it was 30 years for professional men but 24 years for manual workers and by 2006 it was 36.2 years for men and 33.6 years for women. These later figures are heavily distorted by the large number of second marriages after a divorce.
Throughout the last 350 years, women have been on average two years younger than their husbands and in the first half of the 19th century almost one-third of all brides were pregnant at the time of their marriage. Before 1754 brides often signed with their maiden name even when it was their second marriage. It was also quite common for two or more members of one family to marry two or more members of another; for example two sisters married two brothers. Marriage between cousins was also popular and marriage after the death of a first husband or wife was very common, especially as many women died in childbirth.
In some parishes a widow remarrying was entered as a spinster, making life for modern researchers even more difficult. In many parishes the records do not contain any details of the couple's status (spinster, bachelor, widow etc) and records before 1754 rarely, if ever, contain this information.
The Civil War Period

Between 1649 and 1660 the church system known as Episcopacy, government in which Bishops are the chief clerics, was abolished and in 1653 the right to perform marriages was removed from the clergy. During this period, Justices of the Peace (JP) were the only people licensed to perform marriages and couples often had to search for a parish in which a JP was available, which may have been some distance away.

It is estimated that between 1646 and 1650 over a third of all marriages were not registered. Bishops were reintroduced in 1660.
Calendar change in 1752
A new calendar was introduced in 1752, and New Years Day in England moved from 25 March to the 1 January. This means, for example, that December 1750 was followed immediately in the parish records by January 1750. Because of this change, weddings can often seem to be after the baptism of the first child.
For example - if a couple married in May 1750, and their first child was born nine months later, the baptism would be recorded as being in February 1750 (what we would now refer to as February 1751). On face value this would suggest that the couple could not be the parents of the child, when in fact they could. This phenomena is not so much of a problem if you are looking at a copy of the actual record of events in the Parish Record as they were normally listed in the order they occurred, but it can be a problem when the events are shown in a tabulated list taken from the records and sorted by date, such as with the International Genealogical Index (IGI), although the latest version of that site attempts to correct the problem.
The change to the new calendar also meant that 11 days were omitted from the calendar resulting in the 2nd September 1752 being followed immediately by the 14 September for that year alone. Consequently, there are no parish records for the period 3 September to 13 September 1752 (inclusive). (To find out more about how the calendar evolved see Calendar.htm)
Hardwick's Marriage Act 1753
Hardwick's Marriage Act 1753 (the Act) applied only to England & Wales and came into force in 1754. Scotland and the Channel Islands were exempt from the legislation. Under the terms of the Act, a separate book had to be kept for recording marriages. These books make reading the entries much easier and there is a lot more information in each record.
Before the Act, the marriage records showed very little information. A typical marriage entry in the parish records before 1754 is as follows:

After the Act, entries in one of the new marriage books show the date of the event, the names of the bride and groom, their married status (bachelor, spinster, widow or widower etc), whether the marriage was by banns or licence, the name of the vicar or curate, the signature or mark of the couple and the names and signatures or marks of the two witnesses. A typical example (from 1789) is shown below.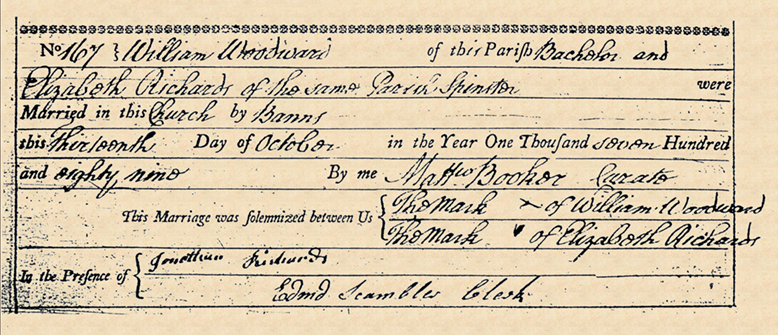 In the mid 1800s, 31% of men and 45% of women signed with a mark rather than a signature. Witnesses can be a valuable aid to linking a marriage to your family, but one thing to watch out for is that often a churchwarden would act as a witness when nobody else was available. This usually shows up by one named person witnessing many marriages or, as in the case above, by the addition of the title 'Clerk'. However, it can be misleading when the churchwarden had the same surname as your family and an easy way to check is to look at the next few pages of the book just to make sure that the witness is not the churchwarden.
Under Hardwick's Act, banns were made compulsory and licences were only valid for a specific church. From 1823, banns had to be read in both the bride and groom's parish where they were different. Addresses of residence in the marriage entry are rare before the early 1800s, and where shown can be misleading. Often one address for both parties was given so as to avoid the need to pay for two lots of banns - i.e. one in the groom's parish, and one in the bride's.
Hardwick's Act also declared that only marriages held at approved places (i.e. Anglican, Jewish or Quaker churches) were legal. This was a big change as previously couples who made a vow before witnesses, who lived together and who had children were recognised by the church and law as being 'married'.

From 1754, all children born to couples married at non-approved places (such as 'marriage shops' or non-conformist chapels), were declared as 'base'. They were unable to inherit from their parents, whose property then reverted to the crown after their death. The Act declared this provision as retrospective. In order to legalise their marriage, some couples married again in an Anglican church, having first married in a non-conformist chapel. Marriage by other denominations, (i.e. Roman Catholic and Non-Conformist) wasn't legalised until 1836.
Age of consent
Hardwick's Marriage Act fixed the lower legal age of marriage as 14 for men and 12 for women. This was raised to 16 for both sexes in 1929, although parental consent was still required for those under age 21 (a minor). Despite the provisions of the Act, marriage at such a young age was very rare, especially in rural communities.

Under Hardwick's Act, marriage of a minor (under 21) by banns without consent did not render the marriage null and void (this was changed in 1950). Under-age marriage without consent was rare, as usually someone in attendance when the banns were read would object on the grounds of age or lack of consent. Couples often went to another parish where no-one knew their real age.
Marriage of a minor by licence without parental consent was null and void, although it still happened, and as Hardwick's Act did not apply to Scotland, marriages in Gretna Green, the nearest Scottish town from the English border, were a regular occurrence for people under the age of 21. In 1939, Scottish law was changed to mirror English law.

In 1969, the minimum age for marriage without parental consent was lowered to 18 years of age.

Marriage Act 1836 - non-conformists and roman catholics
The Marriage Act 1836 allowed for non-conformists and catholics to marry in their own place of worship, ie. chapels and Roman Catholic churches.
Civil Registration from 1837.
Civil registration was introduced in England and Wales in 1837. Instead of being married in church couples could be married by a Registrar at the local Registrar's office. Civil registration bought changes to the marriage certificate by the inclusion of the bride and groom's age, occupation, place of residence, and the name and occupation of their fathers. A typical marriage entry after 1837 is shown below.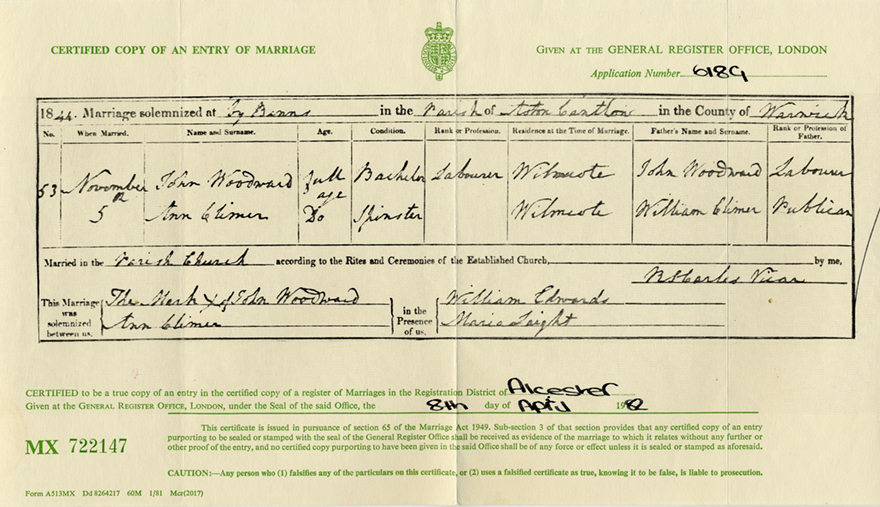 In 1841, only 2% of marriages were by civil registration. By 1970 the figure had risen to 70%. By 1990 church weddings were back in fashion and half of all marriages took place in church.

Marriage Act 1949
From 1 January 1950, the marriage of a person under the age of 16 was void. Also, marriage of a person under the age of 21 years (a minor) without parental consent or the consent of a Registrar or of a Court, was not allowed unless the minor was a widower or widow. Any Banns published for the marriage of a minor were void and before a licence could be granted proof of consent had to be shown.
Under the 1949 Act, Muslim marriages (Nikahs) performed in the UK are not recognised by UK law. Muslims must therefore also undertake a civil ceremony. This requirement has recently (2020) been upheld by the Court of Appeal; Muslim marriages performed outside the UK are recognised.
Civil Registration Act 2004
From 5 November 2007, a civil marriage ceremony can be held at any place approved by the Registrar of Marriages. This change allowed for hotels, clubs and stately homes to host weddings provided that the ceremony is conducted by a registrar.
Same sex marriages
On 17 July 2013, the Marriage (Same Sex Couples) Bill received Royal Assent and passed into English law. The Bill came into force at midnight on 29 March 2014. Similar legislation was enacted in Scotland in December 2014. From 10 December 2014 the law in England allowed for civil partnerships to be converted into marriages, and a similar change occurred in Scotland on 16 December.
The International Genealogical Index (IGI)
The Church of Jesus Christ of Latter Day Saints (the Mormon Church) has compiled the International Genealogical Index (IGI), an index of baptisms, marriages and some deaths taken from information contained in the parish records. The index contains the names of over 400 million people from the period 1550-1900. Copies on CD-Rom are usually available in most libraries and county record offices, but also online (a link is available from the top-left-hand corner of this page).

The index is a wonderful aid to getting started. Using the search facility online you can look for marriages in a wide range of parishes, based on the name. Using the Batch Number system, you can also discover all marriages that took place in a specific parish. Beware, however, as the IGI is only an index. Any database the size of the IGI will have errors and omissions, and all records must be verified from other (original) sources. However, the index will help you focus on which records to look at and genealogists owe a great debt to the Mormon's for this wonderful resource.
Change of surname on marriage
Since marriage records began in 1538 it has been the custom in England for women to change their surname on marriage from their birth name to that of their husband. This was probably the case before the records began, although in the middle ages some men who married into high status families changed their name to that of their wife in order to perpetuate the 'family line'.
The law in England does not require a woman to change her name on marriage; it's just tradition. It may even go back to the old view that a wife belonged to her husband. During the 1980s and 1990s, with the popularity of the feminist movement, many women bucked this trend and retained their birth name, particularly where they were famous. However, by the year 2000 the trend turned back and approximately 90 percent of English women were again changing their name after their marriage. Where they did keep their own name they usually gave their children their husband's surname.
The increase in the divorce rate over the last 30 years or so has seen a large number of women revert to their birth or maiden name after legal separation from their husband, and this could prove a nightmare for family history researchers in the future. In the Victorian and Edwardian period, when divorce was considered something of a social stigma, many divorcees called themselves spinsters if they remarried.
Further reading:
See Wikipedia (free encyclopedia) 'Surname' for information about the history of family names throughout the World.

Compiled by Graham Woodward, Nottingham, England (UK).