Woodward Family Tree - Family members
Click on each name link to access more information about the person and their family..
John Woodward and Hannah (c. 1730)


John and Hannah are shown in the parish records for Alcester as the parents of a William Woodward, baptised 25 May 1760 who quite probably married Elizabeth Richards in 1789 (see below). They also had a child in Quinton near Stratford on Avon, Betty Woodward born in 1762, but their marriage cannot be found.

Click the link for more details or if you have any information on this couple, please contact me.

William Woodward (1760 - 1797) and Elizabeth Richards (1762 - 1830)


William Woodward was baptised in Alcester, Warwickshire on 25 May 1760, the son of John and Hannah Woodward. Very little is known about him. The record of his parent's marriage cannot be found. He married Elizabeth Richards in 1789 in Alcester, had three children, then died in 1797 in Alcester. The cause of death is unknown. Elizabeth re-married to a William Phipps in Alcester in 1804 and went to live in Inkberrow, Worcestershire where she died in 1830.


John Woodward (1792 - 1875) and Hannah Laight (1785 - 1871)


John Woodward was the second child of William and Elizabeth Woodward, and was baptised in Alcester in 1792. He moved to Inkberrow with his mother when she remarried, and he stayed there all his life, working as an Agricultural Labourer. In 1814 he married Hannah Laight at Tardebegg Church, near Redditch, and moved to the Ridgeway, near Inkberrow, Worcestershire, where they had six children. John died in 1875 aged 82, and was buried at Inkberrow. Hannah died in 1871 aged 87, and was also buried at Inkberrow.

John Woodward (1821 - 1888) and Ann Climer (1824 - 1894)


This John Woodward was the third child of John and Hannah Woodward. He was baptised at Inkberrow, Worcestershire, and started work as an Agricultural Labourer. He married Ann Climer in 1844 at Aston Cantlow Church and moved to Wilmcote, Warwickshire, where Ann's family lived. John worked in the local stone quarry, but became a cooper (barrel maker) when the quarry closed.

John died at Wilmcote in 1888, aged 67. Ann died in Wilmcote in 1894, aged 69.

Arthur John Woodward (1857 -1928) and Joice Jeffrey (1861 1957)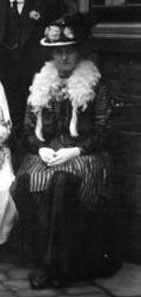 Arthur was the third son of John and Ann Woodward. He was born and baptised at Wilmcote, Warwickshire, in 1857. He had two elder brothers and three younger sisters. He worked with his father as a Stone Mason at a quarry in Wilmcote, but after 1871 he, his brother and his father all worked as Coopers (barrel makers) at Showell's Brewery in Langley, nr Smethwick in Birmingham. Arthur's eldest brother, William, a Stone Mason, married and moved to Sneinton, Nottingham. Arthur's sisters lived in Smethwick.

In 1882 Arthur married Joice Jeffrey, a needle maker, at Chipping Campden, Gloucestershire. After the marriage they settled in Smethwick, Birmingham, where their first child, Horace, was born in 1887. In 1891 they moved to Burton on Trent, Staffordshire, where Arthur worked at Bass's Brewery until he retired. He died in 1928. After Arthur's death, Joice lived at Stretton, near Burton, until she died in 1957, aged 96. Arthur and Joice lost a son, Cecil Frank, killed at Delville Wood, France during the First World War.



Horace Arthur Woodward (1887 - 1966) and Annie Johnson (1897 - 1979)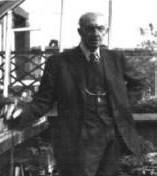 Horace was the eldest of seven children born to Arthur and Joice Woodward. He was born at Smethwick, Birmingham, in 1887, and baptised at Wilmcote, Warwickshire. He moved to Burton on Trent in 1891 and in 1903 was apprenticed to his father at Bass's Brewery in Burton. He eventually became a fully qualified foreman cooper, working with his father, three brothers and two cousins.
In 1914 he went to work in Selby, Yorkshire where he met Annie Johnson and they were married in Selby Abbey in 1919. They settled in Burton where they bought a house and he returned to work at Bass's Brewerry where he stayed until he retired aged 65. Horace died in 1966 and Annie died in 1979.

Gordon Arthur Woodward (1923 - 2000) and Vera May Baker (1924 - 2013)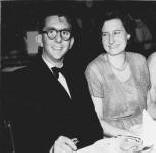 Gordon was the second and youngest son of Horace and Annie Woodward. He was born in Burton on Trent in 1923 where he grew up and went to the local Grammar School. He joined the Army in 1942 and was badly injured in 1945. After the war he returned to Burton where he married Vera Baker. Gordon worked for Marley Tiles in Burton on Trent until 1958, and then for Holborn FNF in both Burton and Rochester, Kent. He moved to Nottingham in 1966 but returned to Burton in 1970. He died in Burton on Trent in July 2000. Vera died in Burton in September 2013.

Roger Graham Woodward (1951 - ) and Catherine Jean Guillon (1953 -)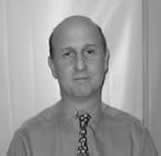 I was born in Burton on Trent, Staffordshire, on 14 September 1951, the third child of Gordon and Vera Woodward. I lived in Burton until I was 12 years old, moved to Lenham, Kent in 1964 and to Nottingham in 1966. In 1976 I married Catherine Guillon in Nottingham. Cate's family on her father's side came from Niort, France in the 1820's and her grandfather was killed on the Somme fighting for the French in the First World War. Her mother's ancestors (Dawn) came from the Vale of Belvoir in Nottinghamshire, and both the Guillons and the Dawns have relatives living in Canada. Cate and I moved to Peterborough in 1983 but returned to the East Midlands in 1989. We have two children, Nicky and Tim and live in Nottingham.
Photo gallery
A small gallery of Woodward photos is now available to view.