Research into William Woodward
This page has been created primarily to remind me how I decided which William Woodward I am related to, but you may find it useful for your own research.
It has been proven beyond a reasonable doubt that an Elizabeth Richards, born in Alcester in 1762, is a direct ancestor. Her first husband was William Woodward, whom she married in 1789, but the question is which William?
The marriage entry in the parish records (below) does not show William's age or the names of either parent; that information was not included in the records until 1837. There were no Woodward witnesses and all we know is that he was a bachelor who lived in Alcester (of this parish) at the time of the marriage. One of the witnesses was Edmund Scrambler, the parish clerk and his name appears in many marriage entries. The other witness was Johnathan Richards, Elizabeth's brother.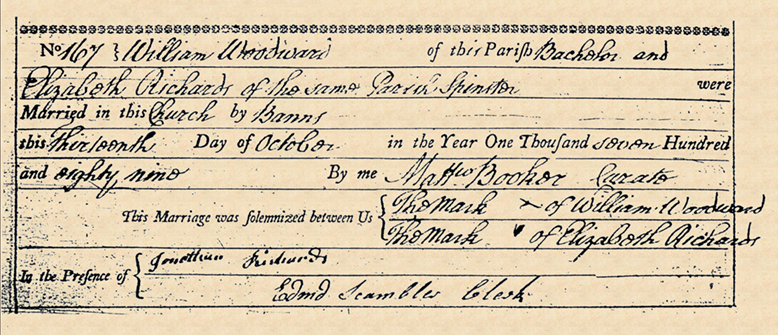 In order to find out which William married Elizabeth in 1789 it has been necessary to research all other possible Williams in the area. This approach has been to eliminate as many contenders as possible and then see who is left.
The average age at marriage in the 1700s was 28 years for men and 26 years for women, and most couples married within a radius of 15 miles from their place of birth. The average ages are quite high and a bit misleading due to the large number of widowers or widows marrying again after the death of their first spouse. This means that marriages where the parties are quite a bit older than average must also be considered, but in the 1700s very few single men got married before their mid twenties. It was common for a woman to marry in her home parish and have her first child baptised in that same parish.
Based on the average age of marriage, the William who married Elizabeth Richards in 1789 would have been born sometime about 1760/61. Using parish baptism records, there are over 20 William Woodwards who could, age wise, have married Elizabeth Richards in Alcester in 1789, but only eight that fit the distance and other parameters. The eight William candidates have been researched extensively and details are set out below. Some are included purely because they lived close to Alcester. They are listed in baptism date order, not any order of merit. Because of the high infant mortality rate, baptism of a child usually took place within two weeks of their birth.
| | | | | |
| --- | --- | --- | --- | --- |
| Name | Date of baptism | Place of baptism | Father | Mother |
| William | 4 January 1750 | Morton Bagot, Warks. | Paul Woodward | Elizabeth |
| William | 15 June 1750 | Bidford on Avon, Warks. | John Woodward | Eleanor |
| William | 27 December 1752 | Chipping Campden, Glos. | Thomas Woodward | Alice |
| William | 29 March 1753 | Old Swinford, Worcs. | John Woodward | Mary |
| William | 23 September 1759 | Morton Bagot, Warks. | Richard Woodward | Ann |
| William | 28 January 1760 | Stratford on Avon, Warks. | Joseph Woodward | ? |
| William | 25 May 1760 | Alcester, Warks | John Woodward | Hannah |
| William | 9 December 1764 | Stratford on Avon, Warks. | Thomas Woodward | Hannah |
1750 William Woodward from Morton Bagot
This William, baptised in 1750 at Morton Bagot, Warwickshire, would have been 39 years old at the time of Elizabeth Richards' wedding in 1789. This is much older than the average age for a first-time marriage, but he is a candidate because of his location rather than his age - he lived at Studley, four miles from Alcester. His age is more akin to that of a widower marrying again, but when Elizabeth Richards married in 1789 the parish records show that her bridegroom was a bachelor.
Research points to this William as having married Sarah Smith on 1 December 1776 at Studley, three miles west of Morton Bagot where he was born. Studley was Sarah Smith's home village, and she was baptised there on 11 February 1750, the daughter of William Smith. Studley has other significant links for this William - in 1722 his grandmother married her second husband who came from Studley and in 1774 William's twin brother, Robert, married Alice Rickman in Studley. These events show that this William was Studley based, not Alcester based like Elizabeth Richards.
The Morton Bagot parish records show the baptism of a Mary Woodward on 6 April 1777, the daughter of William Woodward and Sarah, but there are no other children born to the couple after Mary. There is a death of a Sarah Woodward in Alcester on 27 July 1777, and it is quite likely that Sarah died shortly after childbirth which would explain why there are no more children born to this couple.
The UK Register of Duty Paid for Apprentice's Indentures, 1778, shows a William Woodward as a qualified apprentice to Paul Woodward, a butcher from Morton Bagot, Warwickshire. This is almost certainly William's father, as Paul was an uncommon name at that time. This also fits with the fact that Sarah Smith's father was a butcher in Studley, and may even have worked with Paul, which would explain how William Woodward met Sarah Smith.

The parish records for Studley show a wedding on 21 June 1798 of a Mary Woodward (William's daughter) to a John Green (a widower). One of the witnesses at the wedding was a William Woodward, most likely her father. The Land Tax Records for Studley in 1790 show a William Woodward living in Studley, the tenant of Richard Harrice. William is living next door to a John Green and is also next door to a William Woodbine, a farmer and property owner who may well have been related to Sophia Woodbine who married William's nephew, Joseph Woodward, in Alcester in 1801.
The 1805 Land Tax Record shows William living in Studley next door to a Robert Woodward, almost certainly his twin brother who married in Studley, and next door to John Green (who married William's daughter, Mary). This date, 1805, shows that William was still alive a year after Elizabeth Woodward (nee Richards) married her second husband, William Phipps in 1804. This confirms beyond any doubt that this 1750 William from Morton Bagot did not marry Elizabeth Richards. There is a record of a burial at Studley on 13 July 1827 of a William aged 79, an age that is well within tolerance to match William's baptism in 1750.
In summary, the 1805 Land Tax record showing William still alive confirms that he did not marry Elizabeth Richards.
1750 William Woodward from Bidford on Avon

The William born in Bidford on Avon would have been aged 39 if he had married Elizabeth Richards in 1789, considerably older than the average. There is no suitable marriage of this William in Bidford, but there is a marriage to Hannah Goode in Aston Cantlow in 1774 that could be this William. The parish record shows that one of the witnesses was a John Sale. There is no John Sale in Aston Cantlow, but there is one born in Bidford about two months before William; perhaps he was his best man!

William and Hannah had a son, William, baptised in Aston Cantlow in December 1774, who died in 1775 and was buried at Aston Cantlow, There are no more children of this family baptised in Aston Cantlow after 1775 or in Bidford on Avon. So far their whereabouts after their son's death are unknown. Normally after the marriage, they would have returned to Bidford, William's home village, but the baptism and burial fits with the tradition of the first child being baptised in the mothers' home parish. The fact that there are no more records for this family suggests that either Hannah or William died. The death of Hannah would leave William to remarry, but Elizabeth Richard's marriage record shows her husband to be a bachelor, so he didn't marry her. If William died then that solves his involvement, but there is no suitable death in the records.
The 1774 marriage in Aston Cantlow could also be the 1752 William from Chipping Campden (below) but unlikely. It could not be the 1759, 1760 or 1764 Williams on age alone. Without any links to the Richards family and with the John Sale link, it seems highly unlikely that this William married Elizabeth Richards.

1752 William Woodward from Chipping Campden
The William born in Chipping Campden in Gloucestershire in 1752 would have been 37 years old at the time of Elizabeth Richard's marriage in 1789. There is no marriage of a William in Chipping Campden around the right time, no William having children and no William death.
Chipping Campden is 11 miles from Alcester, well within the 15 mile radius mentioned above. William's great-grandfather, grandfather and great uncle were successful stone masons from Aston Sub Edge and Chipping Campden, who completed substantial building work in and around Alcester. They rebuilt Quinton church in 1712, Alcester church in 1729/30 and Alscot House from 1750/64.
In 1766, William's grandfather, Edward Woodward, a master stone mason, died and left him £50 in his will to be paid when he reached the age of 21 years (1773). This was a considerable sum of money for a manual worker at the time, making him a relatively wealthy man. He was also in line to inherit substantial property in Aston Sub Edge and Chipping Campden in Gloucestershire when his grandmother died. It seems unlikely therefore that he would choose to marry a woman from a relatively poor family in Alcester (Elizabeth Richards). So, who did he marry?
As a young man of some means, he would probably have migrated towards Worcester, Evesham or even Gloucester, all prosperous locations. He did not enter the stone mason business, as his grandfather's firm closed in 1777 when his uncle went bankrupt. Also in 1777, there is a marriage of an unknown William Woodward to Hannah Atkins in Tewksbury, four miles south of Chipping Campden which could be him, as there was no William of the right age born in Tewksbury.
In summary, I don't know for certain who this William married, if at all, but feel that due to his wealth and property ownership in Chipping Campden it is highly unlikely that he married Elizabeth Richards in Alcester and stayed there for eight years.
1753 William Woodward from Old Swinford
This William Woodward was born at Old Swinford, Worcestershire in 1753 to John Woodward and Mary Pearson. Old Swinford is now part of Stourbridge and is 20 miles north-west of Alcester, but it is where Elizabeth Richards' grandfather, Samuel Richards, married Sarah Dunn in 1724, and where her great uncle, John Richards married in 1719, even though the Richards family were essentially an Alcester based family (1660s).
Despite their Alcester roots, Elizabeth Richards' father had a cousin from Old Swinford who married in Coughton near Alcester in 1747. Coughton is where a Joseph Woodward was born in 1769, the son of John Woodward from Morton Bagot. Joseph's uncle was the 1750 William eliminated earlier. Joseph is a strong candidate to have married Elizabeth's sister, Sarah Richards, in Alcester in 1797. A witness at the wedding was a J. Richards, which could be either John Richards, her father, or Johnathan Richards, her brother. It's easy to assume that the Joseph that Sarah married was the one from Coughton, but a later remarriage of Joseph's gives a link. After Sarah died in 1799, Joseph remarried to Sophia Woodbine, and Elizabeth Woodward (nee Richards) was a witness at that wedding. The name Woodbine links to the 1750 William from Morton Bagot above, who in 1804 was living in Studley next door to William Woodbine. This is too much of a coincidence and suggests that the Joseph who married Sarah Richards was the one from Coughton.
Joseph Woodward did not have any other suitable William Woodward relatives that could have married Elizabeth Richards. The fact that two sisters both married Woodwards within a short period of time surely cannot be a coincidence. However, it does not answer the question of how, if at all, the William Woodward who married Elizabeth Richards was related to the Joseph Woodward who married Sarah Richards and does not answer what happened to the Old Swinford William.
Research shows that the 'Old Swinford William (1753) was one of seven children born to John and Mary Woodward in Old Swinford between 1738-53. William had a brother Joseph, born in 1749 but he would have been too old to have married Sarah Richards in 1797 and Sophia Woodbine in 1801, as Sophia's last child was born in 1813 when that Joseph would have been 64.

There is no William Woodward marriage in Old Swinford, but there is a marriage on 30 June 1784 in Halesowen, four miles away, to an Anne Smith. That event would eliminate him as the husband of Elizabeth Richards, but the marriage record is not available on-line and therefore until it is viewed to see who the witnesses were he must remain a possible candidate to have married Elizabeth Richards, albeit an unlikely one.
1759 William Woodward from Morton Bagot
This William could not have married Hannah Goode in Aston Cantlow in 1774 or Sarah Smith in Studley in 1776 mentioned above, as he would have only been 15 and 17 years old respectively. He could have married Elizabeth Richards in 1789 but the more likely option is that he married Elizabeth Biddle in Tanworth in 1785.
Elizabeth Biddle was baptised in Tanworth on 11 June 1763. She and her husband, William, stayed in Tanworth all their married lives having their last child James there in 1805, a year after Elizabeth Richards married her second husband, William Phipps in 1804. This in itself seems enough evidence to eliminate him as Elizabeth Richards' husband, but the two William and Elizabeth couples could be switched around. Also, one of the witnesses at Elizabeth Biddle's wedding was Thomas Fitter and a Thomas Fitter was baptised in Tanworth in 1762. The Morton Bagot Woodwards had links with Tanworth and the latter village was Elizabeth Biddle's home. Elizabeth Richards had no known links with Tanworth.
According to the parish records, a William Woodward died in Tanworth on 15 July 1822 aged 62 years, and an Elizabeth Woodward died on 17 April 1833 aged 69 years, dates and ages that match perfectly with the baptisms of the couple mentioned. William's death in Tanworth in 1822 is much later than Elizabeth Richards' second wedding to William Phipps in 1804, so again is a good reason to rule him out as her husband.
A slight problem with this family is that despite Morton Bagot being a small hamlet, we are unable to fit his family into the larger Morton Bagot Woodward families. Despite extensive research we cannot identify where William's father, Richard Woodward, came from even though he probably married Ann Hinton in Morton Bagot in 1742. They had seven children in Morton Bagot, William being the last in 1759. It seems likely that Richard was from Throckmorton, Warwickshire, where there were Woodwards dating back to the 1500s. His father may be an Emmanuel Woodward from Throckmorton, and one of Richard's sons had a son called Emmanuel, a fairly rare name. William could therefore be distantly related to the Joseph Woodward who married Sarah Richards, mentioned above, but the link cannot be found.
If this William married Elizabeth Richards then who did Elizabeth Biddle marry? All the evidence points to this William marrying and dying in Tanworth, and not therefore marrying Elizabeth Richards in Alcester.
1760 William Woodward from Stratford on Avon
This William was baptised in Stratford on Avon on 28 January 1760. His father's name in the parish record is Joseph Woodward, but his mother's name is not recorded. The baptism is not on the IGI (Family Search) or Ancestry records but is in the original parish record.
There is very little to go on in respect of this William. There is no obvious Joseph in the Stratford records, or nearby, and no suitable marriage. This might be because Joseph did not come from Stratford. There is a William and Hannah couple having children in Stratford from 1784 to 1809 and this William's birth would be a good match for that marriage. It's not likely to be the 1764 William below, as his age of 20 years at the time of the wedding is a little too young, whereas this William being 24 would fit the bill much better. The fact that they had a child named Lydia, a rare name at the time, is interesting though, as that name also appears in the Quinton/Stratford family of the 1764 William below.
He could have married Elizabeth Richards in Alcester in 1789, but there is no evidence to show that she had any links to Stratford on Avon unless William's father Joseph came from Alcester or perhaps Morton Bagot, Warwickshire. In essence, with the lack of any direct link it seems unlikely that he married Elizabeth Richards, but not impossible.

1760 William from Alcester
This William Woodward is recorded as being the son of John and Hannah Woodward when he was baptised in Alcester on 25 May 1760. His birth year and location, assuming that he grew up in Alcester, is a perfect match to be the husband of Elizabeth Richards. He would have been two years older than Elizabeth, an average that has been the norm for over 300 years, and was from her town, but that's about as far as it goes. The problem is that we can't find out anything about his parents.
A John and Hannah next pop up in the records as the parents of a Betty Woodward, baptised at Quinton, Warks in 1762. The record shows that they were from Mote-House, Dorsington, which is near Quinton. There was a Thomas and Hannah Woodward who had a son John Woodward baptised at Quinton. They were recorded as also being from Mote-House. The village of Dorsington only had a population of 98 in the 1841 census which suggests that two Woodward families in the village at the same time must have been related. After Betty, there are no more children baptised to John and Hannah. There is no death of either of them and their marriage record cannot be found anywhere. This suggests that something is amiss. The question is did they really exist? Are the Alcester and Quinton records accurate? Can two sets of church records for the same family be so wrong? Are they actually two separate families? What happened to them? If William went to Quinton as a child then how did he later meet and marry Elizabeth Richards in Alcester?

Elizabeth Richards' younger sister Sarah married a Joseph Woodward who came from Morton Bagot but lived in Alcester. They had one child in Alcester who died in 1800, shortly after his mother. Joseph was the son of John Woodward and Eleanor Woodward (nee Chesier) from Morton Bagot. It seems inconceivable that Elizabeth and Sarah just happened to marry men of the same surname who weren't related; it does not make sense. But, what if Joseph was William's brother? (There are no records of any William and Joseph Woodward cousins of the right age.)
For William to be Joseph's brother his parents would have to be John and Eleanor not John and Hannah. Is that possible? The records of baptisms were often written up from scraps of paper sometime after the event. Mistakes were common (see The Family Tree Detective by Colin D Rogers). There is a seven year gap in the birth cycle of John and Eleanor in Morton Bagot. William 1760 fits this gap perfectly. In the Alcester record of William's baptism there are twelve entries all in the same handwriting that appear to have been written-up at the same time, six months after William's baptism. A mistake in copying would have been easy to make, assuming that the notes from the event were correct in the first place. Also, when James Woodward, John and Eleanor's son, married Ann Ellis in 1792 one of the witnesses was a William Woodward - his older brother and best man? But what about Betty 1762?
Betty fits into a vacant slot in the tree of Thomas and Mary Woodward (nee Oakley) in Clifford Chambers and Quinton. If these were her parents, not John and Hannah, then that would explain the living "at Mote House" entries in the register - Betty 1762 and John 1760 were brother and sister. As for the question 'can this error happen twice to the same family?', the answer is yes, because they were most likely not one family but too completely separate ones.
Elizabeth Richards' husband died sometime before 1804 when she married William Phipps. There is an adult William Woodward death in Alcester on 26 May 1797 and whilst it seems highly probable that this was her husband, based on the date their last child was born, it still does not tell us which William Woodward he was. However the preponderance of evidence now suggests that William's parents were John and Eleanor from Alcester, the same as Joseph who married Elizabeth's sister, and that he married Elizabeth Richards. (See the William Woodward page for more details.)
1764 William Woodward from Stratford on Avon
This William could have married Elizabeth Richards in Alcester in 1789, but a marriage in Stratford and research elsewhere in 2021 shows that he moved to Coventry about 1795 where he and his wife both died.
William was baptised in Stratford on Avon in 1764 to Thomas Woodward and Hannah Charlwood, although his elder brother and sisters were all baptised at Clifford Chambers or Quinton. There is no death of him in Stratford as a child. There is a marriage at Holy Trinity, Stratford on 14 December 1790 of a William Woodward (bachelor) to a Mary Hawtin (spinster). Both the bride and groom were recorded as, 'of this parish' (Stratford). William and Mary had three children in the Stratford area: Hannah in 1791 at Weston on Avon; Elizabeth in 1792 at Weston, and Mary in 1794 at Stratford.

Research by a third party has shown that soon after Mary's birth, William and Mary moved to Coventry where they had three more children: Sarah in 1795; William in 1797 and Thomas in 1798. The family moved to the Stoke district of Coventry sometime after 1802 when their daughter Hannah died, and in 1825 Mary (Hawtin) died aged 62. William died in Stoke in 1845 aged 81 - these dates are a good match to the William and Mary from Stratford with no matching alternatives found at Coventry. William's death was registered by a John Samuel, his son-in-law, the widower of Mary Woodward, The 1841 census shows William living with John (a widower) and with his daughter, Elizabeth, age 40, unmarried. In 1851 William was dead but his daughter Elizabeth was living with John Samuel in Stoke, shown as her brother-in-law. The census shows that she was born in Luddington, in Old Stratford parish, across the river from Weston on Avon where she was baptised. Her birthplace is repeated in the 1861, 1871 and 1881 census returns.
These events mean that this William did not marry Elizabeth Richards in Alcester in 1789.
Conclusion
The weight of evidence suggests that Elizabeth Richards, whose status as an ancestor has been proven beyond doubt, married the William Woodward born in 1760 in Alcester, who was the son of John and Eleanor Woodward from Morton Bagot not John and Hannah. If you know otherwise, please contact me.
Compiled by Graham Woodward, Nottingham, England (UK).