John Woodward and Hannah (1730s)
John and Hannah are named in the parish records for Alcester, Warwickshire, as the parents of a William Woodward, baptised in 1760. Currently he is the main contender to be the husband of the earliest proven ancestor, Elizabeth Richards. John and Hannah's roots are uncertain, as their birth, marriage and death records cannot be found.
Background

The oldest proven member of the family is Elizabeth Richards, born 1762, who married a William Woodward in Alcester, Warwickshire in 1789. Extensive research points towards her husband as being a William Woodward baptised in Alcester in 1760, the son of John Woodward and Hannah, but so far this has not been proven by more than one source of evidence (see William Woodward for more details).
Research
No marriage record can be found for a John and Hannah couple that fits around William Woodward's birth in 1760. The records do not show any other children of John and Hannah baptised in Alcester, but there is a baptism of a Betty Woodward at Quinton (Lower Quinton) near Stratford on Avon on 4 July 1762, the daughter of John and Hannah Woodward. Quinton is eight miles from Alcester, but the parish record for Betty's baptism states that John and Hannah were from "Mote House", which is a manor house at Dorsington, 4½ miles from Alcester. This location links with another Woodward family from Quinton and Stratford on Avon.
A John Woodward was baptised in Quinton in 1760, the same year as William from Alcester, and the parish record shows his parents, Thomas and Hannah, to have come from "Mote House". The tree below shows a family of Woodwards from Quinton and Stratford on Avon and includes both this 1760 John and 1760 William Woodward who is believed to have married Elizabeth Richards. If correct, it would make the 1760 John a cousin of the 1760 William and 1762 Betty, and would explain the link between their birth villages, ie. Alcester and Quinton. (Siblings have been omitted from the tree to simplify the layout.)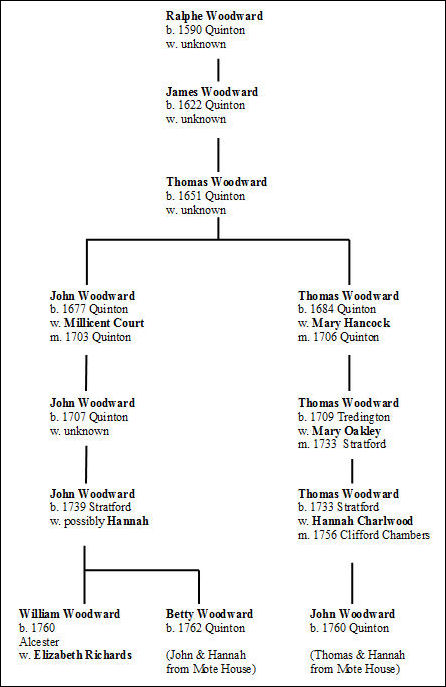 The Mote House is an old manor house in Dorsington, a small village in Warwickshire a few miles north of Quinton. Its population in 1851 was only 98 people, and it is only slightly bigger today. It is inconceivable that two Woodward families having children in this tiny village at the same time would not be related in some way - John (1739) and Thomas (1733) being cousins makes a lot of sense.
In 1754, Dorsington church and half of the village burnt down. A list of pre-1754 Dorsington marriages is available on the internet, although unfortunately there isn't a marriage record for a John and Hannah couple. The church was rebuilt in late 1760.
After the fire at Dorsington, many of the tenant families, mostly agricultural labourers, were dispersed to the surrounding area; Alcester is only 4½ miles away. John and Hannah may have moved to Alcester, with Thomas and Hannah moving to Quinton. This would account for why William was baptised in Alcester in 1760. It also goes some way to explain why John and Hannah did not stay in Alcester for Betty's baptism in 1762, as it seems that they returned to Dorsington (Mote House) after the village and church were rebuilt.
Why did John and Hannah only have two children?
If William and Betty were the children of the 1739 John from Stratford, it raises the question as to why they only had two children when the average for the time was four to six. It's possible that John or Hannah (or both) died after Betty's birth in 1762, hence no more children. However, there are no obvious deaths in the records around that time and no obvious second marriages. It is however interesting to note that there was no Woodward witness at the marriage of William Woodward and Elizabeth Richards in Alcester in 1789 which suggests that his parents were dead by then.
There are two John and Hannah Woodward couples who married in Staffordshire in 1758, over 40 miles away, and one in southern Gloucestershire, 30 miles away, but all these families were having children in those locations at the same time as the John and Hannah in Alcester and Quinton. Also if John and Hannah had moved that far away from Alcester after Betty's birth, it would be unlikely for William to later have married Elizabeth Richards in Alcester. The fact that in 1762 they were in Dorsington, 4½ miles away, suggests that they lived locally which makes the marriage to Elizabeth Richards much more likely, especially as Alcester was their main market town.

If John and Hannah's son William did not marry Elizabeth Richards in Alcester, then what happened to him, who did he marry and where? There is another intriguing link that could be significant. It involves a family with the name Hawtin/Howton/Horton//Houghton, which the dictionary of English surnames says are all the same name.
Hawtin, Howton, Horton and Houghton links
Elizabeth Richard's brother Samuel married Rachael Houghton in Alcester in 1786 and her other brother, Johnathan, married Jane Howton, also in Alcester in 1780. Both couples had children in Alcester. The brother of the 1760 John Woodward from Quinton married a Mary Hawtin in Stratford, and their aunt, Lydia Woodward, married a William Horton in Stratford. Lydia had a son, John Horton, who married in Alcester and had three children there. This provides a strong link between the Stratford and Alcester Woodward and Horton families.
Lastly, there is a marriage of a William Woodward and a Hannah Houghton on 26 May 1752 in Salford Priors, Warwickshire, 4 miles from Quinton, but no children can be found for this couple. There are no suitable Williams or Hannahs born in the parish and Hannah Houghton's origins cannot be traced online. It's possible that this marriage entry is wrong. A similar situation occurred in the adjoining sister parish, Bidford on Avon, in 1750 when a John Woodward married an Eleanor Peters. The parish records only show the marriage of a William and Eleanor, but all of their four children are baptised to John and Eleanor; it seems unlikely that the vicar would get the father's name wrong four times! As the record of marriages before 1754 was completed by the vicar alone, with the couple not having to sign any register, mistakes were frequent. Colin Rogers in his excellent book The Family Tree Detective, suggests that before 1754 many clergy were in the habit of entering events in the records en-bloc, ie. several days afterwards. This must have been the case with the Bidford marriage and could also have been the case with the Salford Priors ceremony; was it John and Hannah not William and Hannah? Salford Priors is also where a Paul Woodward (not a common name in the 1700s) married an Elizabeth Moor in 1731, whose grandson, Joseph Woodward, later married Elizabeth Richards' sister in Coughton near Alcester.
None of this explains why only two children can be found born to John and Hannah and does not prove that their son, William Woodward, married Elizabeth Richards in Alcester in 1789 (see William Woodward), but it is credible.
Summary
Without a marriage record for John and Hannah Woodward the evidence that they were the parents of William Woodward who married Elizabeth Richards is only circumstantial. However, it does fit together quite well. It is often impossible after nearly 300 years to be absolutely certain about any family relationships. Records at the time only dealt with three events, baptism, marriage and burial, and all were short on detail. For example, a typical marriage entry before 1754 would read: John Woodward and Eleanor Cheshire were married this day, 27 April 1752. Without details of a couple's age and the names of their parents, family trees can often only be compiled by a process of elimination; the page for Other Williams shows how far this process of elimination sometimes needs to go.
So, on the evidence so far gathered, it seems highly likely that John and Hannah Woodward are ancestors, that they originally came from Quinton or Stratford on Avon and that their son William married Elizabeth Richards in Alcester in 1789.
If you are a descendant of any of these families or have any information about them, please contact me.