Arthur John Woodward (1857 - 1928)
Born 26 March 1857 Wilmcote, Died 30 June 1928 Burton on Trent
Father John Woodward II; Mother Ann Climer

Arthur was born in Wilmcote, Warwickshire, on 26 March 1857, the third child of John Woodward and Ann Woodward. His birth entry in the civil register shows his father to be "John Woodward - Stone Quarrier" and his mother as "Ann Woodward - formerly Climer"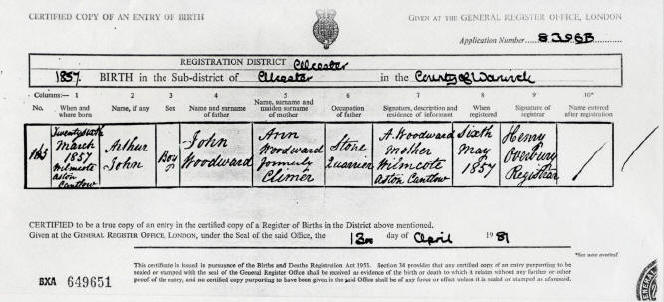 Arthur, together with his two elder brothers, (William and Henry), and his three younger sisters (Ellen, Fanny and Hannah Elizabeth) all stayed in Wilmcote until they reached adulthood.
Census records

The 1861 census shows Arthur as living at 14 Wilmcote Row, Wilmcote, with his parents. Wilmcote Row is a row of 18 cottages built in the 1840's of local stone for workers at the local quarry. In the census Arthur is described as a scholar aged 4, born in Wilmcote. This matches the birth record in 1857.


The 1871 census does not show any specific address, just 'Wilmcote', but shows Arthur as aged 14, a labourer. The 1881 census shows Arthur as aged 24, now working as a cooper (a barrel maker). This change of occupation from a labourer to a cooper fits with his father also becoming a cooper around the same time. Exactly where they worked is unknown, but it could have been at the quarry in Wilmcote if they were 'dry coopers', men who made barrels for dry goods such as cement.


By 1881 Arthur's eldest brother, William, a stone mason, had married a Harriett Hunter in 1871 in Nottingham where they settled and had three children. His other brother, Henry, also a cooper, married Caroline Jones from Haselor, Warwickshire, and settled in Vicarage Road, Oldbury, (formerly Worcestershire but now part of the West Midlands). Henry was later to follow Arthur to Burton on Trent, Staffordshire to work at Bass's Brewery in the town. Henry's sons, Louis and William also worked at Bass's until 1897 when they returned to Oldbury probably to work at Crosswells Brewery, nr. Vicarage Road, Langley, later owned by Allsopps Brewery (Ind Coope), of Burton on Trent.
Arthur's sister, Ellen Woodward, worked as a housemaid at 210 Hagley Road, Birmingham (now a car showroom), but by 1901 she had married a William Grant (a plumber) and lived at 40 Warley Road, Smethwick, Birmingham. Arthur's sister, Fanny, married a John Parkes Chalker, a carpenter from Smethwick, in 1884 and his sister Hannah was a general domestic servant living at 45 Mary Street, Birmingham, working for an Ellen Thompson.
Marriage at Chipping Campden, Gloucestershire


Chipping Campden Church

Arthur married Joice Jeffrey at St James church, Chipping Campden, Gloucestershire, on 16 February 1882.

On the marriage certificate Atrhur's occupation is shown as a cooper, resident at Oldbury. His sister, Hannah Elizabeth Woodward, was a witness at the wedding along with his cousin, John William Stephens, the son of his mother's sister, Elizabeth Climer.
Joice Jeffrey (1861 - 1957)
Born 7 March 1861 Chipping Campden, Glos; Baptised 9 March 1881 Wilmcote (as an adult); Married 16 February 1882 ; died 23 December 1957, Stretton Burton on Trent aged 96.
Father John Jeffrey; Mother Joice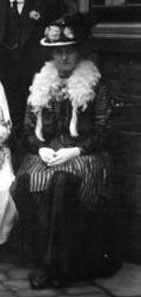 Joice was born in Chipping Campden, Gloucestershire, on 7 March 1861 the daughter of John Jeffrey and Joice. Her mother's maiden name is unknown. Joice was the sixth child of 10 children born to John and Joice Jeffrey. The first two children were born in Draycott, Gloucestershire, but all the later children were born in Chipping Campden. (For more details of the family see the

Jeffrey family tree

.)


The 1861 census shows John Jeffrey as living at 'High Street, Chipping Campden' aged 38, born in Draycott, Gloucestershire, (approx 1822) and working as a machinist. His wife is shown as being aged 35 (birth 1826) born in Moreton in the Marsh, Gloucestershire. Joice (the daughter) is shown as aged 1 month, born in Campden.


The parish records for Wilmcote, Warwickshire, show that Joice Jeffrey (the daughter) was baptised in Wilmcote church on 9 March 1881, aged 19 years. This seems odd when she was born in Chipping Campden, except that the 1881 census for Wilmcote, shows her as staying in Wilmcote with her brother-in-law and sister, William and Lucy Neal. William Neal worked at the quarry in Wilmcote and this is probably how Joice met Arthur John Woodward. Joice and Arthur were married in 1882.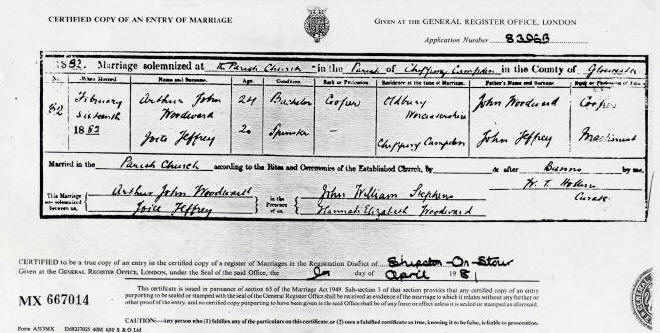 Arthur and Joice as a family
After their marriage, Arthur and Joice settled in Smethwick, living for a while at 38 Cape Hill, where their first child, Horace, was born in June 1887. He was baptised in Wilmcote later that year. The five year gap between the wedding and Horace's birth was probably due to the fact that it was said that Joice had at least two miscarriages before Horace's birth. Their next child, Elsie May, was born in 1890 in Oldbury; approximately one and a half miles from Smethwick.
Its very possible that Arthur worked at Cape Hill Brewery in Smethwick, which is literally just around the corner from where Horace Woodward was born.

In 1891, Arthur and Joice moved to Burton on Trent. The census of that year shows them as living at 188 Branston Road, Burton. Evidence of this move also comes from the Cooperage records at Bass's Brewery, then the largest brewery in the World, as Arthur signed-on at Bass's in October 1892 along with his brother Henry and Henry's son, Louis. Although Henry later left the brewery, Arthur remained at Bass's until he retired as a foreman cooper in 1922, aged 65.
The 1901 census shows the family living at 36 Hunter Street, Burton, the family having moved there from Branston Road via a house in Wyggeston Street.

By the time of the First World War (1914-18) Arthur and Joice lived at 96 Eton Road, Burton, but later bought a house at 36 Eton Road. Although Arthur's ancestors had been agricultural labourers, a poorly paid occupation, and Joice's parents were working class, coopers commanded a very good wage which enabled Arthur and Joice to become house owners.
The children
Apart from Horace and Esie May, Arthur and Joice's other children were all born in Burton; Bernard, in June 1892, Lawrence Roy in 1894, Cecil Frank in 1896, Evelyn Vale in 1898 and Dennis Jeffrey Woodward in 1902.
Horace

, Arthur's eldest son, started work in 1903 at Bass's Brewery as an apprentice cooper under the supervision of his father. He later moved to Selby and Scarborough in Yorkshire but returned to Bass's in 1922 when his father retired. (See the Horace page for more details.)
Elsie May married James Eden in Burton, but the marriage only lasted a few months. She died in 1963.
Leslie Bernard (known as Bernard) became the manager of Bass's licensed houses (pubs) and hotels and retired to Devon where he died in 1985 aged 93. (Bernard's son became a brewer in Devon).
Lawrence Roy worked at Bass's until after the Second World War when he moved to Watford, nr. London. He died in 1967.
Cecil Frank (known as Frank) was killed at Delville Wood during the First Battle of the Somme, France, on 18 July 1916, having joined the 1st Bat. Gordon Highlanders in 1914. His body was never found and his name is recorded on the Thiepval Memorial in France along with 72,000 others. (more information)
Evelyn Vale died in Leicester in 1937 leaving a wife and three daughters as yet untraced.
Dennis Jeffrey, who started at Bass's as a clip and cork boy in 1916 but later became a cooper, died in Derby in 1983.
Arthur John died on 30 June 1928 in Burton. Before his death he had one of his legs amputated and whether or not this contributed to his death is unknown. After his death Joice sold their house at 36 Eton Road, Horninglow, and moved to a bungalow known as The Brambles, Hillfield Lane, Stretton, Nr Burton on Trent, where she lived with her daughter, Elsie May, who had divorced from her husband.

May looked after her mother, as well as the house and garden, until Joice died on 23 December 1957 aged 96 years. Arthur, Joice and Elsie May are all buried in the same grave at Horninglow Church, Burton on Trent. The bungalow at Stretton was demolished after Joice and May died and the site is now occupied by a pair of ' new' houses.