John Woodward II (1821 - 1888)
Baptised 19 August 1821 Inkberrow; Died 26 September 1888 Wilmcote, aged 67.
Father John Woodward; Mother Hannah Laight
Married Ann Climer 5 November 1844 Aston Cantlow
John Woodward was the third child of John and Hannah Woodward (nee Laight). He was baptised at St Peter's Church, Inkberrow, Worcestershire, on 19 August 1821. He is shown on the 1841 census for Worcestershire as age 20 living at Inkberrow with his parents and was described as an "Agricultural Labourer".

Although the name John Woodward was quite common, the perfect age match shown in the census return suggests that this is the correct John. The 1851 census for Worcestershire does not include John, but the 1851 census for Warwickshire shows a John Woodward, age 29, born Inkberrow, Worcestershire, living in Wilmcote, Warwickshire, with a wife named Ann age 26, born in Aston Cantlow. The couple are shown as having two children - William aged 4 and Henry aged 2, both born in Aston Cantlow. John was described as a Labourer in a stone quarry and Ann was described as his wife. John's birthplace, Inkberrow, is the second piece of evidence to show that this is the same John as the one born to John and Hannah Woodward in 1821.
Wilmcote had a number of stone pits near the village, and later a large cement works, both of which attracted men from the surrounding area who were looking for work after agriculture began to decline in the mid 1800s. Wilmcote is also where Shakespear's mother, Mary Arden, lived and this is of note as Horace Woodward (1887 - 1966) once said that his grandfather (John) and father (Arthur John) had lived in Shakespeare's house. No one took much notice of this story as the family never lived in Stratford on Avon, but The Shakespeare Trust bought what they thought was Mary Arden's house in Wilmcote in the 1930s and the building had once been occupied by farm tenants. The building turned out not to be the correct property, (the correct building was next door) but if John and his family had lived in this building at some time when it was a farm tenement, then Horace's story may have a semblance of truth about it. (See www.shakespeare.org.uk/main/5/51 for more information about the Shakespeare Trust)

Aston Cantlow Church

John Woodward married Ann Climer at St John the Baptist church, Aston Cantlow on 5 November 1844 even though a church had been built in Wilmcote in 1841. They probably married at Aston Cantlow as this was where all the family baptisms and marriages took place. This is said to be where William Shakespears' parents were married.

One of the witnesses at John's wedding was a Maria Laight, most likely to be the sister of Hannah Laight, John's mother. This is another link back to John and Hannah from Inkberrow.
The marriage record of John and Ann shows the couple to both be of full age (21 or over), a bachelor and a spinster. The marriage certificate also shows John's father as John Woodward, a labourer and Ann's father as William Climer, a publican.
Ann Climer (1824 - 1894)

Baptised 26 December 1824 Aston Cantlow; married 5 November 1844; died 11 October 1894 Wilmcote, age 69. Father William Climer; Mother Ann Clifford

Ann Climer was baptised on 26 December 1824 at Aston Cantlow Church, Warwickshire. Her father was William Climer, and her mother was Ann Clifford. William Climer came from Claverdon near Henley in Arden and was a Stone Cutter according to Anne's baptism record, but the 1841 census describes him as a Publican in Wilmcote, as does Ann's marriage certificate in 1844. However, by the time of the 1851 census he was stated again to be a Stone Mason. Maybe the pub landlord role was a secondary occupation. Ann Clifford's family came from Stoneleigh near Coventry and she was one of 8 children.

Ann Climer was the eldest of three children born to William and Ann Climer. She had a brother, William Climer, born 1827, and the 1851 census shows him as a Stone Mason. Ann also had a sister, Elizabeth Climer, born in 1833, who married a William Stephens at Aston Cantlow in 1860. He was a manager at the local stone and cement works in Wilmcote which links in with those members of the two families (Woodward and Climer) that also worked at the quarry in Wilmcote. Ann probably met John Woodward because he worked with her father, brother and brother in law at the local quarry in Wilmcote.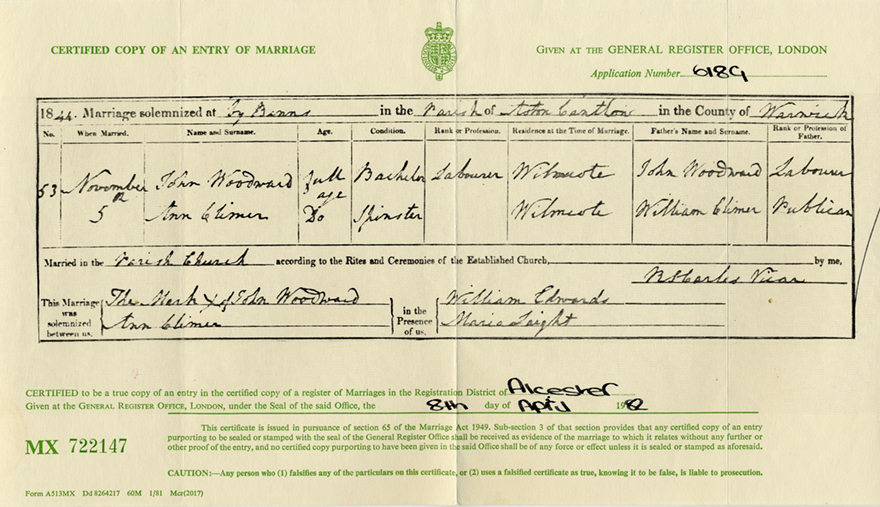 Copy marriage certificate of John Woodward and Ann Climer.

John and Ann as a family

Wilmcote Row, Wilmcote.

In 1861 John and Ann lived at 14 Wilmcote Row, Wilmcote, one of a row of stone built cottages on the road to Aston Cantlow. The cottages were built in the 1840s to house workers at the local quarry.

The 1925 edition of the Ordnance Survey Map shows a disused quarry to the north of this road (the quarry closed in 1908) and well within walking distance of Wilmcote Row. This links to John and other members of the family being described as Stone Masons or Stone Cutters in several records.
The quarry in Wilmcote was a major producer of limestone in the area; its output in the late 1800s exceeded 16,000 tons per year. It provided work for several hundred workers and most of the stone was transported out of the village by the nearby Stratford Canal. The size and scale of this quarry accounts for why men flocked to Wilmcote from all over the nearby area to find work. The quarry produced some of the finest stone, some of which was used for the floor in the newly built House of Lords in London. The fact that Ann Climer's parents came to Wilmcote from Coventry to work in this quarry shows how important it was.
John and Ann's children
William Woodward baptised in 1846 who married Harriett Hunter from Nottingham and settled in Nottingham, a stone mason;
Henry Woodward baptised in 1848, who married Caroline Jones from Haselor, and settled in Oldbury, Worcestershire, a cooper;
Arthur John Woodward, baptised in 1857 who married Joice Jeffery from Chipping Campden, Glos. and moved to Burton on Trent, Staffordshire in 1891, a cooper;
Ellen Woodward, baptised 1860 who married William Grant, a plumber, and settled in Smethwick;
Fanny Woodward, baptised in 1863 who married John Parkes Chalker, a carpenter from London and who also settled in Smethwick.
Hannah Woodward, baptised in 1864, last known as living at 322 Hagley Road, Birmingham in 1901, a housemaid.
Census records
The 1861 census records show John as a labourer living with his wife, Ann, aged 36, also a labourer. The record also shows their children: William, aged 14 - an apprentice, Henry, aged 12 - a labourer, Arthur John, aged 4 - a scholar, and Ellen, aged 10 months - an infant. The household also included a boarder named Rebecca Meeland aged 12 from "The Ridgeway". Her relationship (if any) to John is unknown but the link to the Ridgeway (near Inkberrow) is further supporting evidence linking back to John's parents, John and Hannah Woodward from Inkberrow.

The 1871 census return shows John and his family still living in 'Wilmcote', but there is no specific address shown. He is shown as a Labourer living with Ann, Henry, Arthur and Ellen but now also with Fanny, aged 8 - a scholar, and Hannah, aged 6 - also a scholar. William, John's eldest son, now a Stone Mason, is not on this census return for Warwickshire, and must have left home by this time (March 1871). This links to the record of a marriage of a William Woodward, Stone Mason, to a Harriett Hunter, a Seamstress, in Nottingham in June 1871. John is shown on the marriage certificate as a labourer. Evidence to confirm this is the same William comes later when William reported his father's death and gave his address as Manvers Street, Nottingham.

The 1881 census shows John's occupation as a cooper (barrel maker), aged 60; born Inkberrow. This confirms it is the same John as the one born to John and Hannah Woodward from Inkberrow. John junior is the first member of the family that is known to have been a cooper, a trade that many members of the family also took up in later years. Quite how or why John junior changed occupation at such a late time of life is unknown, especially as coopering was a skilled occupation, learnt over a number of years. However, if he did what was known as 'dry coopering', ie. making barrels that held dry material rather than liquids, then this was an easier skill to acquire. It's possible that some of the cement from the local lime works in Wilmcote went to market in barrels, made on site in Wilmcote.

In 1882 when John's son, Arthur John Woodward got married, Arthur was a cooper living in Oldbury. John is also shown on the certificate as a cooper. Oldbury was at the end of the railway line that ran through Wilmcote, having been built in the 1850s. The Stratford on Avon canal, which also ran through Wilmcote, also had links to Oldbury and Smethwick, where the majority of John's children finally settled in the 1880s. Crosswell's Brewery in Langley, Oldbury, was a major employer in the area and this may well be where Arthur went to work. (Arthur may well have also later worked at Cape Hill brewery in Smethwick). A trade directory for Wilmcote dated 1883 lists John as a cooper living in the village, but a year later when his daughter Fanny married, John is recorded on the certificate as a labourer.

Wilmcote Church

John died on 26 September 1888 at Wilmcote, aged 67. His eldest son, William, was present at the death. William's address on the death certificate is shown as being "66 Manvers Street, Nottingham" which links back to the marriage mentioned earlier.

John's place of burial is unknown. The burial records for Wilmcote Church have been lost, but it's very likely that he was buried in Wilmcote churchyard.

The 1891 census shows Ann Woodward living in Wilmcote - a "widow aged 66", head of her household. Her description as a widow links in with the death record of John referred to above. Ann had a lodger living with her on the night of the census, a John Blackford, a Cooper from Harbury, five miles south east of Leamington Spa, Warwickshire. Whether his occupation is merely co-incidental is unknown, but it may one day prove significant.

Ann died on 11 October 1894 at Wilmcote, age 69. Her daughter, Ellen Grant, was present at the death. Ellen's address is shown as 49 Warley Road, Hagley Road, Edgbaston, Birmingham, which confirms her as the same Ellen who married William Grant. As with John Woodward, Ann's burial place is unknown, but was probably also Wilmcote churchyard.