Horace Arthur Woodward (1887 - 1966)
Born 29 June 1887 at Smethwick, Birmingham; Baptised 31 July 1887 Wilmcote, Warwickshire; Died 20 November 1966 at Burton on Trent, Staffordshire
Father: Arthur John Woodward; Mother: Joice Jeffrey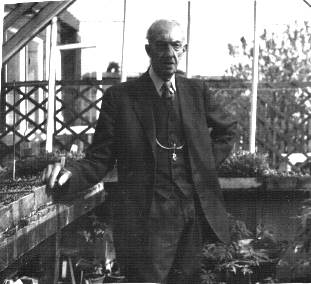 Horace was born at 38 Cape Hill, Smethwick, Birmingham, on 29 June 1887, the eldest child of Arthur John Woodward and Joice Woodward (formerly Jeffrey). He was baptised in Wilmcote Church, Warwickshire, on 31 July 1887, his father's home village.

Horace's father originally worked in a stone quarry in Wilmcote, but by the time of the 1881 census he was a cooper (barrel maker) working in Oldbury, near Smethwick, with his brother, Henry, who lived in Vicarage Road, Oldbury.


Burton on Trent
In 1891 Horace's father moved the family to Burton on Trent, Staffordshire, where Arthur went to work at Bass's Brewery, at that time the largest brewery in the World. Arthur's brother, Henry Woodward, also moved to Burton at the same time, and he too worked at the brewery along with two of his sons, Louis and William Woodward. In 1897 Henry left Burton and returned to Oldbury.
On arrival in Burton, Horace's parents lived in a rented house at 188 Branston Road, but later moved to 36 Hunter Street, Horninglow, (1901 census). Horace went to the local school and sang in the choir at St Chads Church, Horninglow - his mother was a staunch church-goer. Catherine Baker, the mother of his future daughter in law, Vera Baker, also attended St Chads Church and she and Horace became friends.
Bass's Brewery (now Coors)

Horace joined Bass's Brewery as an apprentice cooper on 12 January 1903 (aged 15), apprenticed to his father. Coopers were usually self employed and were paid by their master, in Horace's case his father, rather than by the brewery. When apprentices qualified the event was usually 'celebrated' by the apprentice being thrown into a barrel, doused in beer and wood chippings and rolled across the cooperage yard.

Bass's records show that Horace signed on at the brewery four times in all. He worked his first period until August 1914 by which time he was well established as a fully fledged articled cooper. The job paid good money - almost £3.50 per week at the outbreak of the First World War, against an average of just over £1 per week for general labourers. He volunteered for army service in 1914, despite coopering being an exempt occupation, but was rejected on medical grounds as he had a hernia. His younger brother, Frank, joined the 1st Battalion Gordon Highlanders, and was killed at Delville Wood, France during the first battle of the Somme in July 1916. His body was never found and his name is engraved on the Thiepval Memorial, France, along with that of 72,000 other soldiers missing in action presumed dead. Horace's brother, Bernard, was a cavalry officer in the Royal Horse Guards during the war, and returned home un-injured.

Horace rejoined Bass's in early 1915, but left again in January 1917, this time to work in an ICI factory near Selby, Yorkshire, as part of the war effort, and it was here (Selby) that he met his future wife, Annie Johnson.

Annie Johnson (1897 - 1979)

Born 19 February 1897 at York; Married 19 August 1919 at Selby, Yorkshire; Died 2 November 1979 at Stapenhill, Burton.
Father John Edward Johnson; Mother Annie Elizabeth Jones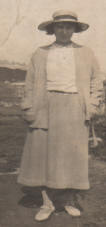 Annie was born in York on 19 February 1897, the fourth child of John Edward Johnson and Annie Elizabeth Johnson (formerly Jones). John and Annie had four daughters and a son - Gertrude (born 1893), Mabel (1894), John (1896), Annie (1897), Hilda (1899) and Phyllis (1916). John Edward Johnson came from South Milford, near Sherburn, Yorkshire, where he was born in 1864. Annie Elizabeth Jones came from Sowerby near Thirsk, Yorkshire, and was John's second wife; his first wife, Elizabeth Tuningley, whom he married in 1885, died sometime between 1885 and 1891. John is shown on the 1891 census at York as a widower. John Edward Johnsons' father is unknown but his mother, Jemima Johnson, married Robert Kendell in South Milford when John was 6 years old. Jemima's parents (Annie's great grandparents) were John Johnson and Sarah Johnson (formerly Hartley), who both came from Liverpool but had their children in Sherburn - this John is shown on the 1871 census as a retired butcher, aged 60, born Liverpool. His father was also called John, born 1780 in Liverpool.
The 1871 census shows Annie's father, John Edward Johnson, age 7, living at South Milford with his grandparents, his uncle, Richard Johnson, and his aunt, Elizabeth Johnson. The 1881 census shows John living at South Street, South Milford, aged 17, unmarried, an agricultural farm labourer, living with his uncle, Richard Johnson aged 33 and his grandfather, John Johnson aged 70, a widower. On the 1891 census Annie's father is shown living alone at Garfield Terrace, York, a widower aged 27, a 'locomotive engine stoker' (fireman). By 1901 John had married Annie's mother, Annie Elizabeth Jones, and they lived in York; John was now an engine driver. Annie's brother, John (born 1896), was killed in 1917 in France during World War One. (See Johnson family tree for more details.)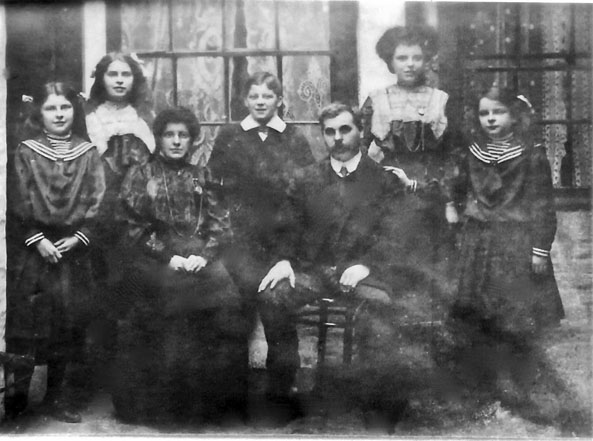 Above: The Johnson Family 1909. Annie is probably the girl on the far left.
By the time of the 1911 census the family were living at the Grey Horse Inn, Gowthorpe, Selby, Yorkshire. John is described as a publican, but he also worked for the railway company part time.
Horace and Annie
Horace probably met Annie during his stay in Selby when he worked for ICI, but returned to Bass's in Burton on 21 May 1919. He was back in Yorkshire by the 19 August that year when he married Annie at Selby Abbey. Witnesses at the wedding were Hilda Johnson, Annie's sister, and Leslie Bernard Woodward, Horace's brother. The reception was held at the Grey Horse Inn.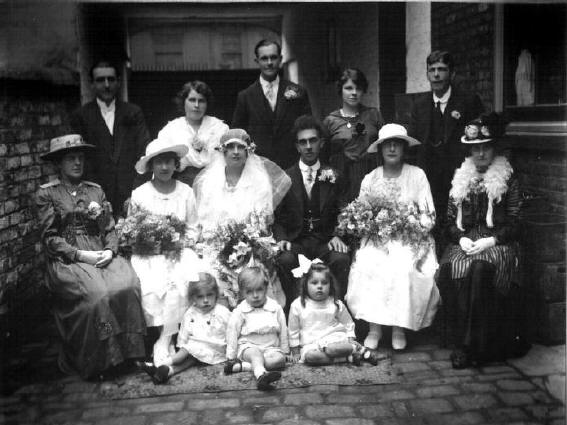 Above: a photograph taken following the wedding of Horace Arthur Woodward and Annie Johnson at Selby Abbey, Yorkshire on 19 August 1919. The picture was taken in the yard of the Grey Horse Inn, Gowthorpe, Selby, Yorkshire. Annie's father was the publican.
Back row, left to right: Henry Smith (Mabel's husband), Mabel Smith (Annie's sister); Leslie Bernard Woodward (Horace's brother); Gertrude Cole (Annie's sister) and Alf Cole (Gerty's husband).
Middle row, left to right: Annie Elizabeth Johnson (Annie's mother); Hilda Johnson (Annie's sister); Annie Johnson and Horace Woodward; May Woodward (Horace's sister) and Joice Woodward (Horace's mother).
Front Row: The child on the far right may be Phyllis Johnson, Annie's youngest sister (age 3). The names of the other two children are unknown.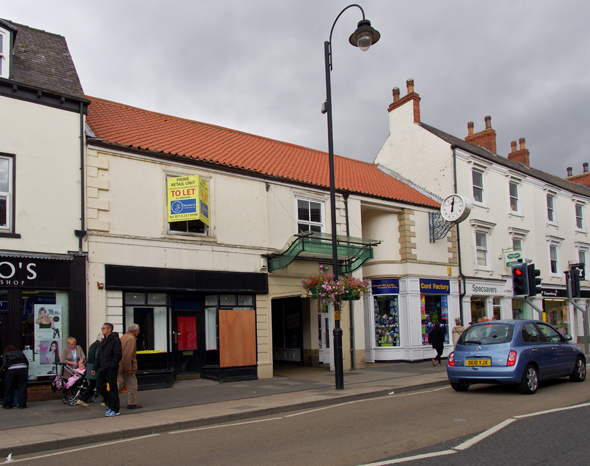 Above: The former Grey Horse Inn, Selby, now a vacant building. The wedding photograph ABOVE was taken in the yard at the side which is now a walkway to a new shopping complex. (Picture from Google street view.)

Horace and Annie's first child, Geoffrey Paul Bernard Woodward, was born in Scarborough, Yorkshire, in July 1920. A member of Annie's family had an hotel in Scarborough and the town became the family holiday resort for many years. Horace didn't leave Bass's in Burton officially until December that year but the family returned to Burton in June 1922 when Horace signed on again at Bass's, now as a Foreman Cooper; ie. in charge of a group of coopers.

By the time Horace returned to Burton, his brother, Leslie Bernard, had established himself as the national manager of the licensed houses owned by Bass's. Another brother, Roy, worked in the accounts department at the brewery, and his younger brother, Dennis, worked as a cooper in what was known as the Middle Yard.

On returning to Burton, Horace and Annie bought a house at 102 Eton Road, Horninglow, with one hundred pounds borrowed from Annie's mother. Horace repaid the loan at the rate of £1 a week. It was here in Eton Road that their second, and last child, Gordon Arthur Woodward, was born on 26 March 1923. The family lived at Eton Road until 1951. Horace's relatively high weekly wage allowed them to live a comfortable life, although his work at the brewery was physically demanding. His father died in 1928, six years after retiring from the brewery, and his mother then moved to Stretton, near Burton, where she lived with her daughter May - she died in 1957, aged 96.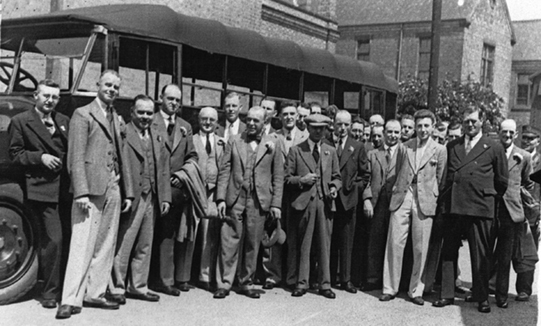 Above: Cooper's outing from Bass's Brewery (Middle Yard) Burton on Trent, 1934.
The photograph above shows a group of Bass's coopers in 1934 about to embark on one of the regular trips to another brewery. Horace is the man standing in the middle at the front, wearing the flat cap. His brother, Bernard, is the tall man standing by the door of the bus with a raincoat slung over his forearm. Their youngest brother, Dennis, can just be seen peering over the shoulder of a man three faces along on the right of Horace (in the photo). Finally, Horace's brother Roy is the man standing on the far right in the photo with a flower in his lapel. (Thanks go to the Bass Museum, Burton on Trent, for a copy of this photo.)

In 1940, following the death of her mother, Annie Woodward had a minor nervous breakdown. She became confused after going alone by train to her mother's funeral in Scarborough and was involved in an incident at the pub next to Burton Station after consuming several gin and tonics. She was arrested and admitted to Bretby Hospital, Burton on Trent where she stayed until 1957. When she came out, Horace had sold the house on Eton Road and moved to Rolleston Road with his son Gordon and his daughter in law, Vera. They all lived together until 1959 when Horace and Annie moved to Stretton to live with Horace's sister, May. When she took ill in 1961 they went to live in a rented house in Park Street, Burton.
Park Street, Burton on Trent

Horace suffered poor circulation in his legs, and in 1964, like his his father and sister before him, had one leg amputated. He injured his leg with a spade whilst digging the garden, and contracted gangrene. He never walked again but Annie managed to push him across the road in a wheelchair to the local pub for his regular pint of beer. Despite working at Bass's for over fifty years, he would never drink their beer, instead preferring to drink Marstons. Right up until his death he loved beer, and once refused to consider a house move to Foston near Tutbury, Staffordshire, as he said the beer at the local pub (Offilers Ale) was like 'dishwater'.

Horace died at Park Street, Burton, on 20 November 1966 aged 79. He fell from his chair whilst poking the fire and hit his head on the fireplace. He didn't go to hospital and died soon afterwards from Pneumonia. He was cremated at Derby. Annie lived alone after Horace's death, but was lost without him. She died on 2 November 1979 at Stapenhill, Burton, and was cremated at Bretby just outside Burton.