Gordon Arthur Woodward (1923 - 2000)
Born 26 March 1923 at Burton on Trent; Married Vera May Baker 18 December 1945 at Stretton, Burton on Trent; Died 1 July 2000 at Burton on Trent.
Father: Horace Arthur Woodward; Mother: Annie Johnson.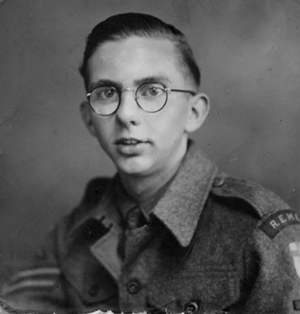 Gordon was born at 102 Eton Road, Burton on Trent, Staffordshire on 26th March 1923. He was the second and last child of Horace and Annie Woodward.
Gordon was nothing like his father and took after his mother's side of the family. In fact he wasn't like the Woodward's at all. He stood about five feet three inches tall whereas most of his uncles and cousins were nearer six-foot. His father earned good money working as a foreman cooper and his mother's family were fairly wealthy. Annie's parents moved from Selby, Yorkshire, to run a boarding house in Scarborough, and Gordon spent many summers there when he was young.


When Gordon was eleven years old he attended Burton Grammar School as a fee paying pupil, paid for by his mother, and on leaving school he started work at the Burton Town Hall as a trainee valuer in the Valuation Office. He didn't stay there long and in 1940 joined Bass's Brewery as an apprentice Cooper.

The Second World War

In 1941, just after his eighteenth birthday, Gordon enlisted in the Army, joining the Royal Ordnance Corps at Old Dalby, Leicestershire. His elder brother, Geoffrey Woodward, had already joined the Merchant Navy in 1940, but his ship was torpedoed in the Atlantic and he spent the rest of the war in a prisoner of war camp.

At Old Dalby, Gordon worked in the stores, and after a short spell at Hinckley, Leicestershire, he transferred to the Royal Electrical & Mechanical Engineers (R.E.M.E) at Ashford, Kent where he was promoted to Corporal. He was then assigned to the 79th Armoured Division to drive a 'swimming' tank, a Sherman Tank fitted with floats that could be launched out at sea to 'swim ashore' ahead of the infantry. However, he missed the worst excesses of D-Day in June 1944 when his landing craft broke down in the English Channel, and he finally arrived in France on D+3. During the Battle of the Bulge in December 1944 he took refuge with a Belgian family, and then after rejoining his unit moved towards Berlin.
On almost the last day of the war whilst driving an army lorry to Beilefeld in Germany he was involved in a major road accident and received such a serious head injury that it was a miracle he survived. The lorry he was driving was hit by the gun barrel of a tank on the back of a transporter going in the opposite direction. The gun took the top off the cab of his lorry and a piece of steel became embedded in his forehead, missing his brain by millimetres. After an operation on his head he was flown back to England to a hospital in Oxford where he stayed until his release from the Army in October 1945. His injury left him with a deep dent in his forehead which he had for the rest of his life.
He returned to Burton on Trent after his discharge from hospital, and on 18 December 1945 he married Vera May Baker at Stretton Church, Nr. Burton on Trent.
Vera May Baker (1924 - 2013)



Born 5 February 1924 at Burton on Trent; Married 18 December 1945 at Stretton, Burton; Died 29 September 2013 at Burton on Trent.
Father Fred Baker; Mother Catherine Outram-Hatto
Children: David Bernard Woodward, Teena May Woodward, Roger Graham Woodward,
and
Zelda Ann Woodward
.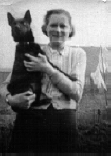 Vera came from a very different background to Gordon. She was born on 5 February 1924 at 201 Wetmore Road, Burton on Trent, a small terraced house backing onto Bass's Meadow, beside the River Trent. Her parents were Fred and Catherine Baker, real working class people.

Vera's mother, Catherine Outram, was born in Hungry Bentley, Derbyshire. Her mother, Fanny Outram, had worked as a servant at Mayfield Hall, Derbyshire, until she became pregnant and had to leave shortly before Catherine was born. Fanny later married a James Hatto at Stapenhill Church, Burton which is how Catherine's name became Outram-Hatto.
As a teenager, Vera's mum, Catherine, went into service, working as a cook and later as a housekeeper at Crakemarsh Hall, Derbyshire, owned by Lady Ann Cavendish. (See the Outram and Jeffery family tree for more details.)

In 1911 Lady Ann Cavendish's son (Tyrell William Cavendish) and daughter-in-law (Julia Cavendish) decided to visit Julia's father (Henry Seigal) in America and asked Catherine to go with them as Julia's maid. Catherine declined the offer as she'd already decided to quit her job and marry Harry Baker. The Cavendish couple sailed for America on the Titanic in 1912. They had a cabin in first class (No. C46) and when the ship sunk, Julia Cavendish and her new maid, Nellie Barber, survived, having been picked up by the ship, Carpathia. Tyrell Cavendish stayed on the Titanic and drowned.
When Catherine Outram arrived jobless at Harry Baker's house to prepare for her wedding she found out that he'd married another woman, Gladys Birch. Instead Catherine married Harry's brother, Fred Baker, on Christmas Day, 1911. The Baker's were a working class family originally from Linton near Gresley, Derbyshire, who later settled in Sudbury, Staffordshire and then Burton on Trent. Fred worked as a brewery labourer at Bass's brewery in Burton, but in 1914, along with his six brothers, he volunteered for army service as part of the call to arms for World War One. He was badly injured during the first Battle of the Somme in 1916 and came home paralysed down his left side. His six brothers all survived the war without serious injury - a miracle when you think of the millions killed in that seemingly senseless conflict. After the war Fred couldn't work and stayed at home pegging rugs. He lived on a war pension of £2.10s.0d (£2.50) a week until he died in 1956. (More details about the Bakers can be found on the Baker family tree).

Vera was the youngest child of Fred and Catherine Baker and the only girl in the family. She met Gordon in 1938 on Eton Road recreation ground, Burton on Trent and later said she knew immediately that she'd marry him eventually. During the Second World War she was posted to Derby, Gloucester, Stafford, Cardigan (Bucks) and St Mawgan near Newquay. At Stafford she had a narrow escape when a plane crashed onto a hanger where she'd been at a dance a few minutes earlier - everyone in the hanger was killed. Whilst at St Mawgan she fell out of the back of an army truck and over a seventy-foot high cliff, landing twenty feet down on a ledge. She was rescued by an American helicopter, one of the first air-sea rescue craft of its type in the UK. She broke all her fingers but otherwise had a miraculous escape. In 1945 a plane crashed onto her sister-in-law's house in Stafford Street, Burton, killing the whole family.

After the Second World War
After the war Gordon and Vera met up again and carried on where they'd left off earlier. They were married in December 1945. Gordon worked as a van driver and as a milk-man for a short while and then secured a job at Marley Tiles, Branston, as a stores manager, based on his skills learnt in the Army. In 1960 he and Vera went to work for Holborn FNF on Wellington Street Extension, Burton, until the firm moved to Rochester, Kent in 1964. Gordon and Vera moved with the firm to Kent, renting an Elizabethan cottage in Boughton Malherbe, near Lenham in the Weald of Kent. In late 1965 FNF closed and Gordon and Vera moved to Nottingham in January 1966 to work for Geoffrey McPherson & Co, a hosiery firm in Raglan Street, St Anne's. The circle was completed when in 1970 they returned to live in Stapenhill, Burton on Trent.
Gordon died on 1 July 2000 at Stapenhill, Burton and Vera died on 29 September 2013 in Queens Hospital, Burton. They were both cremated at Bretby, Derbyshire.