John Woodward (1792 - 1875)
Baptised 7 October 1792 Alcester; died 7 August 1875 Inkberrow aged 82;
Father William Woodward; Mother Elizabeth Richards;
Married Hannah Laight 20 February 1814 Tardebigg, Worcs.
John was the second child of William and Elizabeth Woodward. He was baptised in St Nicholas church, Alcester, Warwickshire, on 7 October 1792. He had an elder sister (Mary) born in 1790 and a younger sister (Ann) born in 1795. Mary died in Alcester aged 21 years, a spinster, and Ann died in Alcester in 1799, aged about 4 years.

John's father died in 1797 and his mother re-married to a William Phipps in 1804. William Phipps came from the Ridgeway, Inkberrow, Worcestershire, and had been married twice before. John grew up in Inkberrow.
The 1841 census shows John and Hannah living at Inkberrow next door to William and John Phipps, the sons of John's step father (William Phipps Snr) by his second marriage (Ann Hill). This supports the theory that it is the correct John and Hannah Woodward, ie. the son and daughter-in-law of Elizabeth Richards, the third wife of William Phipps Snr. Also, Ann Hill was related to Ester Hill, Hannah Laight's grandmother, another positive link. (See the Richards family tree for details).

John Woodward's mother and step father lived and died in Inkberrow. His mother, now Elizabeth Phipps, but shown in the record as Phillips, was buried at Inkberrow church on 28 May 1830 aged 68. William Phipps was buried at Inkberrow on 27 February 1834, aged 70. Their graves cannot be found today.
Hannah Laight (1785 - 1871)
Baptised 7 March 1790 Inkberrow aged 5 yrs; Married 20 February 1814 Tardebigg, Worcs; Died 12 February 1871 Inkberrow aged 87
Father John Laight; Mother Dinah (Diana) Wheeler
Children: Anne Woodward, Joseph Woodward, John Woodward, Mary Woodward, David Woodward and Diana Woodward.
Hannah Laight came from Inkberrow. Her parents were John Laight and Diana Wheeler. Diana is spelt in a number of ways in the records - Dinah, Dianna and Diana.

According to the parish records, when Hannah was baptised at Inkberrow church on 7 March 1790 on the same day as her brother, Michael Laight, she was 5 years old. This means that if the 7 March was her birthday, and she was exactly 5 years old when baptised, then she was born very shortly after her parents were married in February 1785. This was very common for that time.
Precisely why Hannah wasn't baptised until age 5 is unknown. If she was born before her parents were married, it may well have been the case that the vicar at Inkberrow in 1784/5 refused to baptise what was in effect an illegitimate child. Quite why Hannah wasn't baptised at the same time as her sister, Charlotte, in 1788 is a mystery.
Hannah's parents had seven other children after Hannah; baptised between 1788 and 1806. They all married and stayed in Inkberrow throughout their lives. (For more details see the Wheeler and Laight family tree).
John and Hannah Woodward as a family
John Woodward and Hannah Laight were married at Tardebigg Church, near Redditch, Worcestershire, on 20 February 1814, eleven miles from their home in Inkberrow. The wedding ceremony was conducted by George Richards, a Curate. This may be significant, as John's mother, Elizabeth Woodward, was formerly Elizabeth Richards and it is quite possible that she and George were related. This would explain why John and Hannah went to Tardebigge to get married rather than have the ceremony at Inkberrow.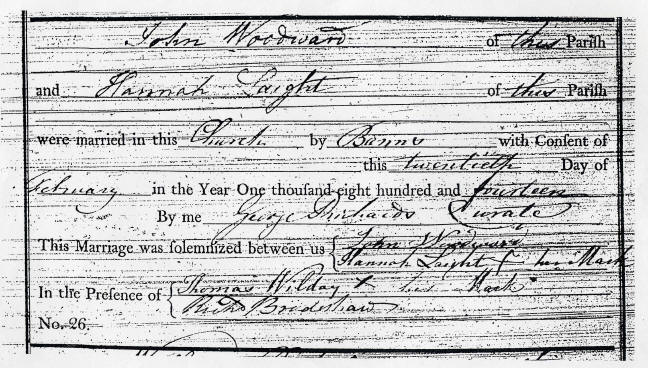 Copy of the entry in the Parish Records of the marriage of John Woodward and Hannah Laight.
Census information
The 1841 census return shows John and Hannah Woodward as living at the Ridgeway, Inkberrow, Worcestershire, with their children, Ann, Joseph and John. John senior's occupation is shown as an Agricultural Labourer and his place of birth is shown as "outside the county". This links back to the birth record in Alcester, Warwickshire.

The 1851 census shows John senior's age as 59 and states that he was born in Alcester - another confirmation that we have the same John as the one born to William and Elizabeth Woodward in 1792 and a perfect age match with that year. Hannah is shown as aged 67 which confirms that she was older than John and helps to prove that he is the John that married Hannah Laight. John and Hannah are again shown as living with two of their sons, Joseph now aged 32 and David now aged 20, both Agricultural Labourers. John Woodward junior is not shown on the 1851 census for Inkberrow as by this time he had married and moved to Wilmcote in Warwickshire.



The 1861 census again shows John and Hannah at Inkberrow, but Hannah is not shown on the 1871 census. The national burial index shows her burial at Inkberrow on 12 February 1871 aged 87. John died on 7 August 1875 aged 82, and was also buried at Inkberrow. There are no grave stones to be found in the graveyard.

The children:
Anne Woodward married Tom Joines (or Jones) in 1843. They had three children that we know about: Ellen born 1842, John born 1845 and George born 1847 all at Inkberrow.
Joseph Woodward, (the eldest son), an Agricultural Labourer, was living in Inkberrow in 1881 with his wife Ann (formerly Ann Maclaland, a widow). Ann had been married before to a James Maclaland, an Irish labourer, and had 7 children, but James died. Ann died in 1889 aged 74 and was buried at Inkberrow and Joseph died in 1893 in Alcester Poor Law Workhouse aged 74.
John Woodward married Ann Climer and went to live in Wilmcote.
Mary Woodward is not on any census return which supports the fact that she died and was buried at Inkberrow in 1824 aged 12 months.
David Woodward, a General Labourer, was living at Cookhill, Inkberrow in 1881 as a lodger of a Charles and Elizabeth Dolphin. By the 1891 census Elizabeth Dolphin was dead (died November 1886 aged 71) and Charles Dolphin died in September 1891 aged 87. David died in Alcester Poor Law Workhouse in 1907, a pauper aged 82. He was buried at Inkberrow.
Diana Woodward is not on any census return which helps to confirm that she is the same Diana Woodward who was buried in Inkberrow in 1830 aged 3½ years